HE WHO WALKS THROUGH WALLS
A few people have brought forward false claims (31 USC 3729(a)) based on KINGDOM OF SWEDEN, a foreign country, and their PARADOX INTERACTIVE corporation ownership of WHITE WOLF PUBLISHING (formerly of Georgia, USA).
What we surmise is that WHITE WOLF PUBLISHING, in knowing and broad manner of fraud, did sell to the Swedes a collection of intellectual property based in MGM Studios prior well established "NEAR DARK" movie property set in "OKLAHOMA".
This property, then also based on "THE LOST BOYS" (Warner Bros. Entertainment, Inc.; 1987), now a subsidiary of "TIME WARNER" aka "Warner Media" and on March 4 2019 reorganization to dissolve "Turner Broadcasting Systems" and "Turner Classic Movies" and "Otter Media" be made directly under "Warner Bros.", themed "Global Kids & Young Adults Division". This move precluded November 13 2019 update of their shield log design by 'Pentagram'.
Warner Bros. - formerly "Warner Bros. Family Entertainment" (1992), and creator of "The WB" channel in 1995 featuring such derived works as "Buffy the Vampire Slayer", "Smallville", "Dawsons Creek", and "One Tree Hill"; and "7th Heaven" and "Charmed" series; and later film rights to "The Harry Potter" book series in 2001, 2002, 2004, 2005, and 2009.
Warner Bros. acquired "Machinama Inc." on Nov 17 2016, a company founded in 2000 by Hugh Hancock and based in Los Angeles, California.
Warner Bros. released "The Dark Knight Rises" and "The Hobbit: An Unexpected Journey" in 2012, distinguished by each film grossing over $1 billion USD.
The acquisition of Warner Bros. by AT&T in 2018 due to the purchase of Time Warner makes the firm that owned the rights to "Lost Boys", a vampire film about flying teenage Santa Carla vampires set in film noir style, the correct owner and 'first to release' their property.
NEAR DARK released after "The Lost Boys", October 2 1987, featuring Bill Paxton among other names, for which WHITE WOLF PUBLISHING then cited in content and scenario material, artwork by Tim Bradstreet based on the character SEVREN (Bill Paxton), and from such artwork did establish an excellent 'tribute' portfolio of properties derived from the look and feel of "Lost Boys" and "NEAR DARK".
By the July 31 1987 release date, "The Lost Boys" (film) barely beat the OKLAHOMA based film to market, but established claims over all properties and characters thereafter, as well as developing the genre in the mid-1990s with "Buffy the Vampire Slayer", "Charmed", and "Harry Potter". WHITE WOLF PUBLISHING, therefore, in claim it owns broad trademark or copyright over "vampire concepts", "vampire society", "magicians", and supernatural properties in "The World of Darkness", is flawed.
Further, have their actions to enrich neo-nazi and anti-gay publications, theft of the use of "STRYX" trademark established in 1992 by SHADOWDANCERS L.L.C. of Ada Oklahoma (USA), and other actions established a defensible property. In 2013-2020, employees of WHITE WOLF PUBLISHING in concert with the "TROKIA GAMES" licensing of this content, attempted to extort James Allen in Ada, Oklahoma (USA) of his registered "BEYOND WAR" property on the basis it contained "Vampires" and other supernatural mythology then a protected element in the public domain.
This extortion was predicated on the kidnapping and concealment during the possession so ordered to James Allen of his proven son, a crime themed felony taking 21 O.S. 21-891 child snatching, and subject criminal complaint from 2001-2020 in ongoing Federal jurisdiction in the UNITED STATES.
Extortion letters were over 300 separate documents, signed by members of an unregistered labor organization in DALLAS, Texas (USA); Ann Arbor, Michigan (USA); and California based firms created to evade Federal Trade Commission (FTC, USA) rule made against a NATION OF JAPAN firm (32.6% equity government owned, similar to AT&T) in attempts to disable the "BEYOND WAR" and "STRYX" marks by broad dilution and sale via a number of channels and written plan to do so for less than $100,000 in context to the kidnapping - a fraud to devalue such property and its right to work and right to sale in markets exceeding $1 billion USD per licensed property.
This extortion coincided with acquisition of WHITE WOLF PUBLISHING by "CCP INTERACTIVE MEDIA" in ICELAND, and subsequent sale of the company to PARADOX INTERACTIVE of SWEDEN, after which the derived work imitating 1998 public demonstration of "BEYOND WAR" products was further sold to PEARL ABYSS of SOUTH KOREA for $423 million USD. The property included in content smuggling of human beings as slaves, smuggling and manufacture of drugs for player use, and organized crime activity including human trafficking and other themes formerly denounced by United States game developers and distributors as illegal and inappropriate for "PEGI 13" audiences, and such content knowingly concealed by design from review to target very young audiences.
James Allen, the developer of "BEYOND WAR" was instrumental in this disclosure to Walmart Inc. and other outlets, citing in this review and during aired television programs knowingly false advertising featuring collisions of vessels and other elements from "BEYOND WAR" properties falsely portrayed as in-game features of the CCP Interactive product, aired during episodes of "Battlestar Galactica" on SYFY CHANNEL in the United States.
CCP was further embroiled in the $100 million financing fraud to borrow funds from ROYAL BANK OF SCOTLAND through the credit of the people of ICELAND, thereby disbarring ordinary $1-$4 million investment sought by SHADOWDANCERS L.L.C. by fraud to portray national support of their product. This fraud was later ruled a credit scheme in the nation of ICELAND and such loans terminated and officers charged for false use of government office to offer as collateral the people of Iceland up to foreign banks as security for very large lending to specific companies.
Characters including "STRYX" are owned exclusively by SHADOWDANCERS L.L.C., and any appearance of fraudulent characters to damage, dilute, or injure the rights of "BEYOND WAR" then made in December 2013 by WHITE WOLF PUBLISHING as the "STRIX" character, are infringement to defraud the United States firm of its rights in license on derived claims from the registered property and 1998 documents surrounding the "alien warfighter system" known as "The Sanguine" in "BEYOND WAR".
Similar purposeful fraud by FANTASY FLIGHT GAMES, obtained from anonymous online content then tendered to GAMES WORKSHOP GROUP PLC as original material, describing the "STRYXICUS" are likewise part of this infringement and criminal activity to extort the SHADOWDANCERS L.L.C. firm in Oklahoma of its 1998 established property "BEYOND WAR", and prior content in the early 1990s under its subsidiary brand SHADOWDANCERS PRESS established in 1991, from which "BEYOND WAR" and the specific properties are an exclusive license of technology themed on scientific technology knowingly portrayed as "supernatural" in presentation, and such elements solely owned and original work.
Previous work in "Chariots of the Gods", and MGM properties "Stargate SG1", based on such prior work; do not pose a barrier to this genre of science fiction writing and property, nor assert "broad claims" over technology misinterpreted as "magic" or "supernatural" to conventional human beings, as featured in "BEYOND WAR".
The "Sanguine" are not, technically, "Vampires", but are the technology from which "Vampire myths" arise based on a sophisticated series of devices and fields of science in quantum technology and high/low-energy theory created and held solely by James Allen's licensee, "SHADOWDANCERS L.L.C.". as work-for-hire then separate from his estate.
Efforts to compel, forfeit, and dilute the value of this "high/low-energy theory" and "Sanguine" technology as a copyright infringement against James Allen and his estate are part of an ongoing fraud involving the concealment for ransom and abuse of his son and sole heir under "automatic mistrial" and false claims act (31 USC 3729(a)) in the United States.
Violence in this matter has delayed the production of "BEYOND WAR" and repeatedly sought to cripple its studio, SHADOWDANCERS L.L.C. and supporting technology network provider RACCOON TECHNOLOGIES INCORPORATED and distributor ("DEEP LAYER INC.") over 2001-2020, in fraud to export and resell the tools and concepts made under 'trade secret' laws of the State of Oklahoma, and to block ordinary "PATENT AND TRADEMARK APPLICATION" by foreign and domestic military companies competing in DARPA trials for automated avionic flight control systems central to the BEYOND WAR property as software.
"BEYOND WAR" is a very early virtual operating system distributed application in artificial intelligence applications and parallel logic systems, API, and control surface clients made over packet switched networks compatible with TCP/IP v4 and v6. It is covered by "THE WASSENGAAR ARRANGEMENT" and other arms control treaties.
In 2020, the UNITED STATES SUPREME COURT ruled that such claims over JAMES ALLEN were made against a resident of "THE CHICKASAW NATION RESERVATION", there born and resident legally since 1975 a location outside the UNITED STATES jurisdiction. In 2019, the UNITED STATES SUPREME COURT ruled in 586 U.S. _____ case no 17-1091 that such claims against the estate of JAMES ALLEN were likewise EXCESSIVE FINE by STATE OF TEXAS, and a violation of the 14th AMENDMENT prima facia, used to chill other rights so express including this claim and other defense of protected intangible works not permitted whatsoever. In 588 U.S. ____ (2019) case no 17-647, then was the right to civil cause of action against STATE OF TEXAS, STATE OF OKLAHOMA, and UNITED STATES made a right of UNITED STATES CITIZEN in estate law then JAMES ALLEN, prior declined unlawfully in STATE OF TEXAS by "MARK BITARA et al v UNITED STATES" filing refused hearing on grounds of 'sovereign immunity' not granted "UIFSA (Rev 2008) section 604 subsection (d) rule". These acts aimed at concealment and alienation of contact between the parent and abducted child of the Oklahoma writer and author of "BEYOND WAR", later featured by 2007-2020 abuse by the "myluv187" group organized to disable his "RIGHT TO WORK" under Oklahoma Constitution Article XXIII-1A, and acts involving WHITE WOLF PUBLISHING employees and persons engaged in false export of title and false transfer of title, there disclosed in association with NIPPON TELEGRAPH & TELEPHONE (NTT) employees and network use to this goal and by COGENT COMMUNICATIONS, the subsidiary of the same, in STATE OF TEXAS. Other persons including family members of RAYTHEON employees in STATE OF TEXAS also participated in the fraud, concealing the child from 2001-2020 successfully, aided by TEXAS GOVERNOR GREG ABBOTT and Attorney General KEN PAXTON, and by Oklahoma Director of TITLE IV AGENCY services HOWARD H. HENDRICK and RENEE BANKS, in violation of Federal Register Vol 81 No 244 and 2017 Feb 20 Federal Law governing $44 billion in grants obligating STATE OF TEXAS and STATE OF OKLAHOMA to comply with 45 CFR - a rule set prohibiting this abuse.
In 2017-2020, STATE OF TEXAS and STATE OF OKLAHOMA, working with rogue elements of two agencies in the UNITED STATES jurisdiction, moved to harass, defame, abuse, rob, and incarcerate James Allen unsuccessfully; in violation with 45 CFR, further making the dispute over "BEYOND WAR" and its anti-socialist message and fiction a political retaliation for policies of a foreign unregistered agent status by companies in direct competition with SHADOWDANCERS L.L.C. in STATE OF NEW YORK and STATE OF CALIFORNIA, known as TENCENT HOLDINGS CO LTD.
TENCENT HOLDINGS CO LTD. was found to own TENCENT TECHNOLOGIES CO LTD. (in Shenzen, China), a patent firm with special interest in "BEYOND WAR" and its technology; and to be active in ongoing attacks on the networks of RACCOON TECHNOLOGIES INCORPORATED totally 24,000 requests per hour from September 2019 to August 2020 sustained; in effort to disable, defraud, and cripple the firm. Companies used in the attacks to deflect law enforcement focus were found to be "Digital Ocean", "Hetzner.de", and other firms listed in complaint against "COGENT COMMUNICATIONS". Abuse appears to arise from the EQUINIX owned "INFOMART" facility on Stemmons Freeway, Dallas TX; where the abductor of the child is an employee or contractor of ROBERT HALF TECHNOLOGIES and associate in threats made directly to attorney services of TEK SYSTEMS, competitors of James Allen and his prior $120,000 USD annual income from NORTHERN TELECOM / SPRINT client work under PROCEED TECHNOLOGIES and PROCEED TECHNICAL SERVICES. This activity appears to be criminal racketeering in interstate corrupt organizations (RICO) fraud, and such actions contributory to the $11 billion bankruptcy of NORTEL NETWORKS in 2011, loss of contracts in 2002 in China to NTT, and subsequent restatement of securities value resulting in the "2002-2004 Telecom Recession" following September 11th 2001 attacks on the UNITED STATES. Kidnapping occurred August 12 2001, just 30 days prior formal military attacks on the STATE OF NEW YORK.
As a member of DEFCON voice bridge services, there known as "Stryx", did James Allen have in his possession intelligence initially denied of a two-plane attack on the World Trade Center in New York State made in 1997; and upon initial contact September 11 2001 was contacted by phone with report of the first plane impact. As he asked the caller "Where is plane two?!" knowing this prior FBI relayed intelligence matter a prior documented plan obtained during Philippine law enforcement activity then made presentation to his office for analysis of threat, James Allen watched "plane two" enter frame and strike the New York World Trade Center.
Members of Congress were fraudulently told for two years to instigate war against the Middle East that no such intelligence was in the possession of the United States FBI or other agency; then later admitting this release after whistleblowers and security analysts were suppressed to make the case for war in the region. Over 400,000 civilians were killed due to improper security practices after the invasion of Iraq and other actions in Afghanistan. The members of SHADOWDANCERS L.L.C. and our partners deeply mourn the loss of all persons in those conflicts, on both sides, and especially those civilian deaths which occurred due to resistance to invasion by the Iraqi and Afghan people. For defending the rights of people against foreign legal claims to make war, and in context to a premeditated fraud to deceive the public by STATE OF TEXAS and STATE OF OKLAHOMA in its own interest, has James Allen been refused any employment or government security clearance to quash his claim of lawful right to return of his child and theft of such child from his home and during INTERSTATE TRAVEL then agreed a form of piracy regarding criminal conspiracy against the UNITED STATES in DEFENSE AND NATIONAL SECURITY INDUSTRIES.
"Beyond War" therefore falls into "Special Matters" under Federal Civil Procedure, an out of ordinary patent and technology claim resultant from incarceration threats and imprisonment of a UNITED STATES CITIZEN. UNITED STATES officers were compelled from 2001-2020 to relent to STATE OF OKLAHOMA and STATE OF TEXAS claims, until "McCrist v STATE OF OKLAHOMA" compelled the UNITED STATES to cede the territory of PONTOTOC COUNTY and CITY OF ADA back to sovereignty of "CHICKASAW NATION RESERVATION", and government there installed who are alien to the interests of this "Man from Oklahoma" who has been on the land since 1975 a resident with rights as a refugee against criminal complicity with Genocide. Beyond War is the story of that resistance to the extermination and abuse of people by false use of mass media, electronic records, and the power of oral (and high technology) history systems to refuse false narratives in Genocide, the dehumanizing of people, and the destruction of the bond between generations for which the "Sanguine" are a warfighting machine purpose built to confront very large and organized industrial societies in open conflict and successful martial resistance.
The Sanguine do not conquer, or need to conquer, as they are self-sufficient by virtue of automation on a level of technology in practical life extension and industry unknown in any other form of science fiction - able to build planetary population centers and industry by the direction of a single soldier; manufacture armies and ships; and wage war as an individual against population groups of pre-automation industrial science on a scale even biblical descriptions have not suggested possible. In this context, the Sanguine are "more than a supernatural character of vampire or Eastern European lore", and very much like the "Styginie" or "Strix" creature which means "Witch" in low ROMAN Latin use; from this base vulgar slur not a derived work of "Stirges" mythology wrongly made a part of the prior story; are the false claims to impersonate the microcomputer technology advancements of SHADOWDANCERS L.L.C. and principle engineer James Allen so made now by AsusTek Computers Inc., DELL INC., and other companies recent use of brands and marks made by SDP MULTIMEDIA GROUP (SHADOWDANCERS PRESS / SHADOWDANCERS L.L.C.) in 1991-1999 so derived unlawfully.
SHADOWDANCERS L.L.C. brands include trademark use of "Dream Engine", "Raider", "Viper", "Battlestation" "XSP", "STRYX", "HEAVY OPERATOR PROJECT (HOP" and "HEAVY OPERATOR" computer science commission by RACCOON TECHNOLOGIES INCORPORATED.
Recent reuse of many of these names by Microsoft, Dell Inc., and other firms continue to suggest a serious abuse of the work of SHADOWDANCERS L.L.C. in early virtual computer hosting and applications later themed "Cloud computing" established by "stryx" user at chickasaw.net (SMOKESIGNALS COMPUTER CORPORATION) in PONTOTOC COUNTY, CHICKASAW NATION RESERVATION.
"XSP" certification in 1990s use at SHADOWDANCERS L.L.C. represented "Cross Platform" Solution and "Cross Platform" Solution Provider services. Use of "X" in such term by XWINDOWS and other Unix-Like projects made this an obvious brand. "XPS" as "Windows XP" System by Dell, has carried forward despite this prior use; and Dell employee Christopher Maidt then also been a Director for RACCOON TECHNOLOGIES INCORPORATED in interim of other officers in Italy and Scotland so made.
We could fight over "first use" or we could fight to recover hostages. There is no moral question one is more critical than the other. As academic plagiarism goes, the very suggestion of a claim against such person or group during such crisis as taking and perpetual concealment of a child is mute; of secondary value, and yet the market damage by early adoption and publicity is severe. Cultures have seen appropriation of credit for technology for thousands of years in this manner, and in the end no one 'owns' the right to disbar the telling of a story for enjoyment - only the use of such claims in registered business as a monopoly seeking exclusive use; from which first-use is the law under THE BERNE CONVENTION, and all claims thereafter or broadly made to disbar the right of a person are a form of unlawful taking. Laws made for the pre-Internet era, where information must be printed, shipped, and bills of lading a rule of very large trade between states; then limiting fines to the traders and carriers; no longer apply successfully to MP3 theft of media and re-use of content in live activity such as video conferencing and e-book printing for distribution globally direct from piracy to end-user adoption without gatekeepers or large volume records. Once false claims are made, public opinion obligates the injured party to appear to make a defense in the same media (Internet), and such claims are not subject "libel" or other abuse to quash their authority - nor the use of violence to compel they abandon the rights otherwise invested in their original work.
REGISTRATION OF COPYRIGHT WORKS only grants a monetary award by the state and network of parties in which the work is registered in their agreement. UNREGISTERED WORKS are legally protected by the IV AMENDMENT as original works even prior publication and while in development under international law. Actions by PEOPLE'S REPUBLIC OF CHINA, NATION OF JAPAN, and KINGDOM OF SWEDEN and ICELAND to deny this protection in rem to JAMES ALLEN and SHADOWDANCERS L.L.C. are therefore academic plagiarism of the highest order, and legal cause to suspend all peering and access to networks, services, and works of those nations until such abuse is arrested and proceeds made repaid in treble for all sales of record, and all such works predicated on derived claims utterly destroyed or surrendered to SHADOWDANCERS L.L.C. in clear title (sole equity).
By evading these claims and predicating defense on economic means test and authority of abuse of an EXCESSIVE FINE and bodily injury to the agent of the estate, are those nations then engaged in an accessory to the crime of child taking and human trafficking against which such properties are sought in false sale for a fraction of ordinary value; and to assert a false monopoly over broad terms for which such claims in ordinary literature and fiction do not permit.
Examples of this abuse are evident in prior works by GAMES WORKSHOP GROUP PLC, which was formerly Citadel Miniatures and WHITE DWARF magazine. Such company did license "JUDGE DREDD" and from such work and "ABC ROBOTS" wrongly adopt artwork, images, and character styles in "WARHAMMER 40,000" for which legal protection of character do not extend, so creating a 'derived work' not original or their property.
Further examples are present in GAMES WORKSHOP GROUP PLC use of the term "TERMINATOR" and "SPACE MARINE" to append two common words in literary use as if a trademark, not permitted at law and prior use by 'UNITED STATES MARINE CORE' and "PARAMOUNT PICTURES" film and images in "STAR WARS" prior made popular in their market; and by the 1983 film "THE TERMINATOR" featuring Arnold Schwartzenneger, released in October 26 1984. Credited to "James Cameron and Gale Anne Hurd, and valued at $3 billion USD in 2010, the plot of time-traveling heavy-grade biker leather machines who look human was actually adapted from a TWILIGHT ZONE episode. Grossing $78 million, $520 million (1991), $443 million (2003), $371 million (2009), $440 million (2015), and $261 million (2019) in film releases, the franchise value of a property like "BEYOND WAR" is extremely similar where managed properly. In contrast, the "Terminator" franchise was offered as low as $70 million USD due to declining management, further diluted by GAMES WORKSHOP GROUP PLC use of the name wrongly in UNITED KINGDOM and national markets for a human exoskeleton with large weapons similar to Frank Herbert's "Harkonnen" minigun and flame projecting napalm cannon made iconic by German soldiers in World War I and II.
Very small firms like GAMES WORKSHOP GROUP PLC (GW), valued at 256.6 million GBP / yr revenue and 81.2 million (2019), for a net income of 65.8 million GBP (2019) equate to a gross of about $86.145 million USD in net revenue per year. Companies leveraging this sort of legal authority to intimidate and disarm writers and developers pose a significant threat of plagiarism when their attorney services refuse to answer ordinary claims or assert claims wrongly against foreign firms and private persons, writers, and properties; to merit substantial trade restrictions by the UNITED STATES against import and sale of property derived, such as software, games, and miniatures which tend to dilute the brand identification of domestic firms unlawfully and in broad claims.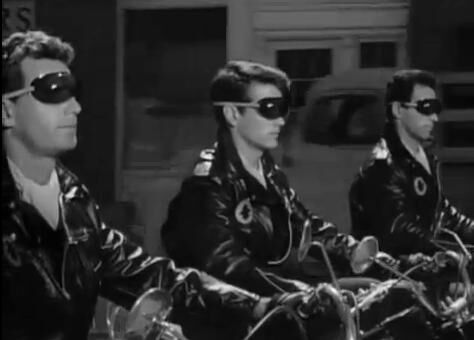 Season 5 Episode 138 (S05E18), by Rod Serling and story by Earl Hammer, Jr., entitled Black Leather Jackets, actually shows where the 'T-800' story and character originated in prior American screenplay and film, from which James Cameron's use and later settlement in court to admit affirm the risks of such taking and use in later adoption derived by GW and other firms adaptation by Serling et al.
Star Wars et al
Likewise, did PARAMOUNT PICTURES film "STAR WARS" incorporate for motion and realism a pre-existing and strong element enjoining older audiences to support and lift up the work by using gun camera footage from World War II actual dogfights and combat as a direct motion data reference for the scenes in the screenplay for "space war" and "wizards with supernatural power" fighting an (allegedly) evil and selfish overbearing "Imperial" space empire similar to prior "Flash Gordon" series description of "Ming the Merciless" and his troops and ships in radio dramas decades prior.
While we all appreciate the cinematography of such theatrical effort and performance, writers like James Allen are in 2001-2020 literally accosted and hunted to their homes and families by abusive fans of such content; who in their ignorance have no comprehension that the claims they are seeking to enforce are false and broadly made allegations by professional companies and franchise holders to engage in antitrust action against smaller firms and developers.
Even simple elements like suggesting the "mainframe computer" character in "BEYOND WAR" be named "Azure" in 1998, appear to be predatory elements in transfer of title to the MICROSOFT CORPORATION in malicious intent suggested by INFOMART employees in extortion, for which there is no lawful cause or reason to this pattern of abuse. Azure was chosen to relate directly to the "Tyec" alien species, a comment on ancient and well known public domain use of the "Aztec" civilization and ruins in South America, similar to MGM use of "Egyptian" mythology and gods (religious characters, not subject trademark or exclusive claims); in "BEYOND WAR", and in respect to a prior industry term which referred to the monopoly of INTERNATIONAL BUSINESS MACHINES (IBM) and their company color (blue) as "Big Blue" in the late 1970s and early 1980s computer market, for which "Azure" is also another shade of the color "Blue".
This sort of duplication of design doesn't just happen, nor naturally arise, and suggest the "myluv187" activity to knowingly, purposefully, and criminally interfere with the SHADOWDANCERS L.L.C. business and claims as suggested in denouncing any "right to suggest a patent or trademark that Microsoft has not already come up with" a fantasy and delusion in the kidnapping of the child, then made a public claim, to be a form of criminal fraud in false prospectus and predatory antitrust activity by contractors in STATE OF TEXAS against the prior-established company and its work in STATE OF OKLAHOMA (then and since ruled CHICKASAW NATION RESERVATION, a sovereign power foreign to the UNITED STATES).
While the "Tyec" remain elemental to "BEYOND WAR", James Allen cites that such "machine men" are not a monopoly of PARAMOUNT PICTURES as in the character "data" nor "replicants" in the 1983 film "Bladerunner", and are in fact derived from PHILIP K. DICK fiction later cited by William Gibson, author of "NEUROMANCER", who dutifully altered his manuscript to avoid confusion in such claims upon seeing the "Bladerunner" film, despite independent discovery as a protected copyright work.
Expressly, works by Akira Matsumoto of NATION OF JAPAN further incorporate "machine men", there featured as humans converted into machines who never die; illustrated with large inset gear-like dials, or other metal-under-skin that make them appear fully human; and such machine people consuming the energy of other 'natural people' through a process of industry then in GALAXY EXPRESS 999 and "Adieu Galaxy Express 999", whose first run in 1977 January 24 to 1981 November 6 in print and September 14 1978 - March 26 1981 were groundbreaking but not widely distributed outside of NATION OF JAPAN. The films in 1979 and 1981, were available then in unauthorized release in the UNITED STATES, from which such films later made including "THE TERMINATOR" were equally subject legal question of derived work, despite most audiences having no exposure to JAMES CAMERON'S proximity to NATION OF JAPAN from STATE OF CALIFORNIA.
These are beloved cultural icons in their home countries, similar to "Captain Harlock" character by Akira Matsumoto in 1977 first release "Space Pirate Captain Harlock".
Competition to find and distribute content for television then was as TWITCH.TV is today, a direct industry predicated on the monetizing of 3rd party material without legal oversight or strong controls, for which altered and misappropriated content became a mainstay for years.
No case is as clear in this modification and taking as the FASA CORPORATION use of designs, characters, and machines from "HARMONY GOLD", founded in 1983, from which "GENESIS CLIMBER MOSPEDA" and prior works and prior work with Tatsunoko Productions. The original Japanese titles "Super Dimension Fortress Macross", "Super Dimension Cavalry Southern Cross", and "Genesis Climber MOSPEDA" released October 3rd 1982, April 15 1984, and October 2nd 1983; combined to form the American release "Robotech".
So successful was the design, that "Takara Tomy" and "Hasbro" corporations out-right stole and used the 'Veritech' fighter design in their "TRANSFORMERS" product line without consent as characters "Jetfire" and "Starfire"; resulting in similar legal action to stop the sale and use.
As a result, the legal image of "Jetfire" was redesigned in American film to an SR-71 Blackbird and other bizarre looking characters. Similar adaptation of Japanese products without regard for rights resulted in the loss of almost all classic FASA CORPORATION "Battletech" characters design, with substitutions being of such a crude nature to satisfy legal that player reliance on continued use of previous models and figures in the after-market became a standing element until FASA shut down, selling off properties to firms like CATALYST GAMES, and PIRANNA GAMES of Canada for "MECHWARRIOR ONLINE" and similar adaptations.
A Generation of Infringmenet As Business Model Behavior
This abuse is evident in claims against "BEYOND WAR", a pattern of racketeering activity to dissolve ordinary rights and claims; for which UNITED KINGDOM, NATION OF JAPAN (their own firms, domestically preying on each other for export to markets in the UNITED STATES), and other states routinely and unlawfully engage in over and over - contrary all professional obligations a pattern of racketeering activity enabled by court sale of remedy and justice along the line of capital service costs.
We therefore cite in this action that "broad claims" made to own all "vampires, werewolves, wizards, faeries, and ghosts" by broad taking a design to escape other copyright claims in WHITE WOLF PUBLISHING, are not rights subject answer or service by SHADOWDANCERS L.L.C. nor in "BEYOND WAR" a claim of record or right to assert whatsoever.
What WHITE WOLF PRESS did is monetize an existing and 3rd party genre by hiring a FASA CORPORATION employee to suggest their D10 (ten sided) dice game were original, solely by changing the size of the dice (D6) used by SHADOWRUN, a FASA CORPORATION game design.
Further, is the "SHADOWRUN" product a clear adaptation of prior 3rd party work by "R. TALSORIAN GAMES", a firm founded by "Mike PondSmith" in Renton, Washington; who created "Mekton" (1984, board game); Cyberpunk 2020 (1988, first printing); and prior the beloved "Teenagers from Outer Space" (1987) paperback games.
This content followed the film-noire set of "Kevin Eastman" and "Peter Laird" in 1984 under MIRAGE STUDIOS in Dover, New Hampshire; and Peter Freed in 1986 and Playmates Toys in 1987. Prior these deals and age-oriented content, the Teenage Mutant Ninja Turtles were very dark characters; similar to works by artist Jhonen Vasquez in March 30 2001 "Invader Zim" and August 1995 "Johnny the homicidal Maniac" comic book.
These elements consistently mirror 'serious comic' work in the 'arcane' area of illustration and storytelling, similar to 'Mike Mignola' work in "HELLBOY" for "DARK HORSE COMICS" in March of 1993.
Audiences interest in this genre are fans of prior work in 1963 July "Strange Tales #110" created in characters now well established and known like "Doctor Strange", by artist "Stan Lee".
Over time we see these initial fanciful and crude elements take on theatric shape and serious character, aided by the performance of actors and technology as "Benedict Cumberbatch", who bring a very practical effect to elements of character and depth not ordinary with or associated in what previous media construe as "cartoons". The same development occurred in "Anime", hand drawn animation styles of the NATION OF JAPAN, from which a distinct and serious style themed for mature audience groups remains a cultural difference between consumer groups in Japan and other nations and territories, confusing the scope and authority of law to enjoin abuse of 'franchise' activity themed broad antitrust actions not permitted an art or illustration as service or license.
Franchise Rights and laws related are therefore VERY IMPORTANT in elements like "BEYOND WAR", and abuse against SHADOWDANCERS L.L.C. and its contributing artists and writers a serious evidence of hostility by employees of foreign corporations in organized antitrust activity against small studios and developers, which the court and public must not mistake for ordinary feedback or criticism, and are not protected under 'parody' in matters of legal dispute involving kidnapping and concealment of family members under color of law or false claims (31 USC 3729(A)) to extort rights in sale or use or disrupt contest to overt theft, a written plan and act so made criminal.
These acts are, in contrast, where ignored, an assault on the "RIGHT TO WORK" (XXII-1A) of intellectual property developers critical of PEOPLE'S REPUBLIC OF CHINA and NATION OF JAPAN and other countries 'socialist' regimes; and who by artistic effort seek to resit and make opposition in a peaceful manner against such assault on their person and reputation (II-6) which suggest values and religious personal statutes constitute a "mental health defect" or heredity or combination thereof suggest an "inferior person" as should have died with the National Socialist Party (NAZI) of Germany and Imperial Japan in 1945.
The resurgence in this abuse, rhetoric, and claims - warrant a strong response from the media industry and law enforcement, just as it would against misgendering persons to abuse the conformity of sexual character or racial exclusion of rights and equity, business ownership, and commerce to a specific ethnic or national character in monopoly exclusive of all UNITED STATES CITIZENS.
This is possible solely by recognition the claims are "foreign jurisdiction and systems of law" in criminal overreach to entreat a form of interdiction or subordination of 1st AMENDMENT RIGHTS against public policy and public domain content; conditioned agreement with a policy of state or foreign government or religion.
As content developers, we are keenly aware of the impact of theft of rights and the right to ownership and license of specific content creators; not simply corporations or legal franchises made by or from the capital requirements to create or produce media in a $200 million USD per picture (2020) marketplace.
As Internet and media speeds increase, and cost per device drops in mobile phone and education needs of increasing pandemic crisis conditions made by PEOPLE'S REPUBLIC OF CHINA; the threat of forced forfeiture of equity of this value ($1 billion USD) and transfer or appropriation in false title becomes an increasing matter for gatekeeper organizations and academics. Plagiarism to infringe knowingly in combination with Genocide and the arts is a substantial sign of foreign national socialism in overreach, as in the taking of value from art and media stores in FRANCE and other countries by Adolph Hitler, ad the abuse of the BEYOND WAR product and licensees similar in every way to assault upon 'unfit artwork' by radical socialist elements now under Xi Jinping and similar radicalized elements in the UNITED STATES territories themed in civil unrest, such as ANTIFA and "myluv187" group a component thereof.
Whether these abuses come directly or via TENCENT equity in "RIOT GAMES", "EPIC MEGAGAMES", "NTT AMERICA", "COGENT COMMUNICATIONS", "INFOMART", "ROBERT HALF TECHNOLOGIES", or intermediary ports of piracy such as "KINGDOM OF SWEDEN" and "ICELAND" where WHITE WOLF PUBLISHING is resident then with "PARADOX INTERACTIVE" in nexus of claims under the "World of Darkness" property to "STRIX" brands and marks; these abuses are the most serious form of assault upon our Republican form of government since Imperial Japan and Germany began their campaigns in World War 2.
Even with sale to SOUTH KOREA of properties to further dilute this activity, we cannot admit the authority of such claims or arguments any legal standing; and stand by the allegation that such taking is illegal and a criminal plan to infringe on UNITED STATES and CHICKASAW NATION RESERVATION business and property there and of American Citizens themed a protected legal person entitled to defense against this taking and abuse.
The prior actions have permanently and irreparably damaged all commerce with NATION OF JAPAN, ICELAND, UNITED KINGDOM, PEOPLE'S REPUBLIC OF CHINA, SOUTH KOREA, KINGDOM OF SWEDEN and other nations involved.
Restitution and enforcement is obligated by UNITED STATES, STATE OF TEXAS, and STATE OF OKLAHOMA for this 'false claims' abuse, a form of extortion, so prohibited in taking of estate rights in forfeiture not a lawful fine under 586 U.S. ____ (2019) case no 17-1091 rule made law in 2017 Feb 20 themed 45 CFR, and criminal nature of such human trafficking barred in 22 USC Chapter 78 and 21 O.S. 21-728.1 rule; a felony activity in infringement of property and concealment to deny relief a fraud against intangible property and goods to disable their claims through incarceration of UNITED STATES CITIZENS so prohibited.
Be you then so advised, before entering the dispute, your allegations must be superior in litany to the bibliography of the 1st printing of "WORLD OF DARKNESS" book, held by James Allen, showing the works from which the claims of wholly original content are disproven in a juvenile and child-like admission of academic credit given, that then destroys their legal claim to seek action against any UNITED STATES registered business or person; having tainted that work with prior citation of credit not afforded license and from numerous 3rd parties.
In layman's terms, "Sit your ass down. Shut up. And Listen." - Or leave.
Because the dispute is far more sophisticated that you give it credit, and "STRYX" is the original artist (nom de plum, registered) and character owned solely by SHADOWDANCERS L.L.C. (1991 Sept proof) for which your claims have no precedent or prior first-use; and refuse to admit cease and desist made formally and duly, part of a war crime 'genocide' already made complaint - placing any backer into the same boat of socialist terrorists as Adolph Hitler, Himmler, and his associated 'Young Hegelian' peer Joseph Stalin. We will not discuss this again. Be ye so informed, and conduct yourself accordingly.
SHADOWDANCERS L.L.C.
A limited liability company of the state of Oklahoma, so made and registered incorporated since McCrist v STATE OF OKLAHOMA a UNITED STATES formal legal entity in opposition to the fraud.